RESEARCH INTERESTS
My main research interests are methods for semantic similarity analysis and their application for information retrieval. Beyond my core research, I am interested in applied data science and knowledge management challenges and the application of blockchain technology to tackle these challenges.
My research spans the fields of:
Information Retrieval (esp. for text, images, and mathematical content)
Natural Language Processing
Plagiarism Detection
Citation and Link Analysis
Blockchain Technology
Information Visualization
For details on specific projects, please see the links on the right or my publications below.
TEACHING & PROJECTS
I very much enjoy collaborating with other researchers and students. If you are interested in my research, please do not hesitate to contact me. If you are a student looking for a bachelor's or master's project or thesis, please see the various topics I offer related to all areas of my research at our students corner.
Researcher
Scientific Information Analytics Group, University of Göttingen
Researcher
Data & Knowledge Engineering Group, University of Wuppertal
Researcher
Information Science Group, University of Konstanz
Visiting Researcher
National Institute of Informatics Tokyo, Japan
Visiting Researcher
University of California, Berkeley, US
Analyzing Non-Textual Content Elements to Detect Academic Plagiarism, University of Konstanz, 2021, Grade: summa cum laude (excellent).
Resources for my thesis
(Data and source code, recording and slides of my doctoral defense)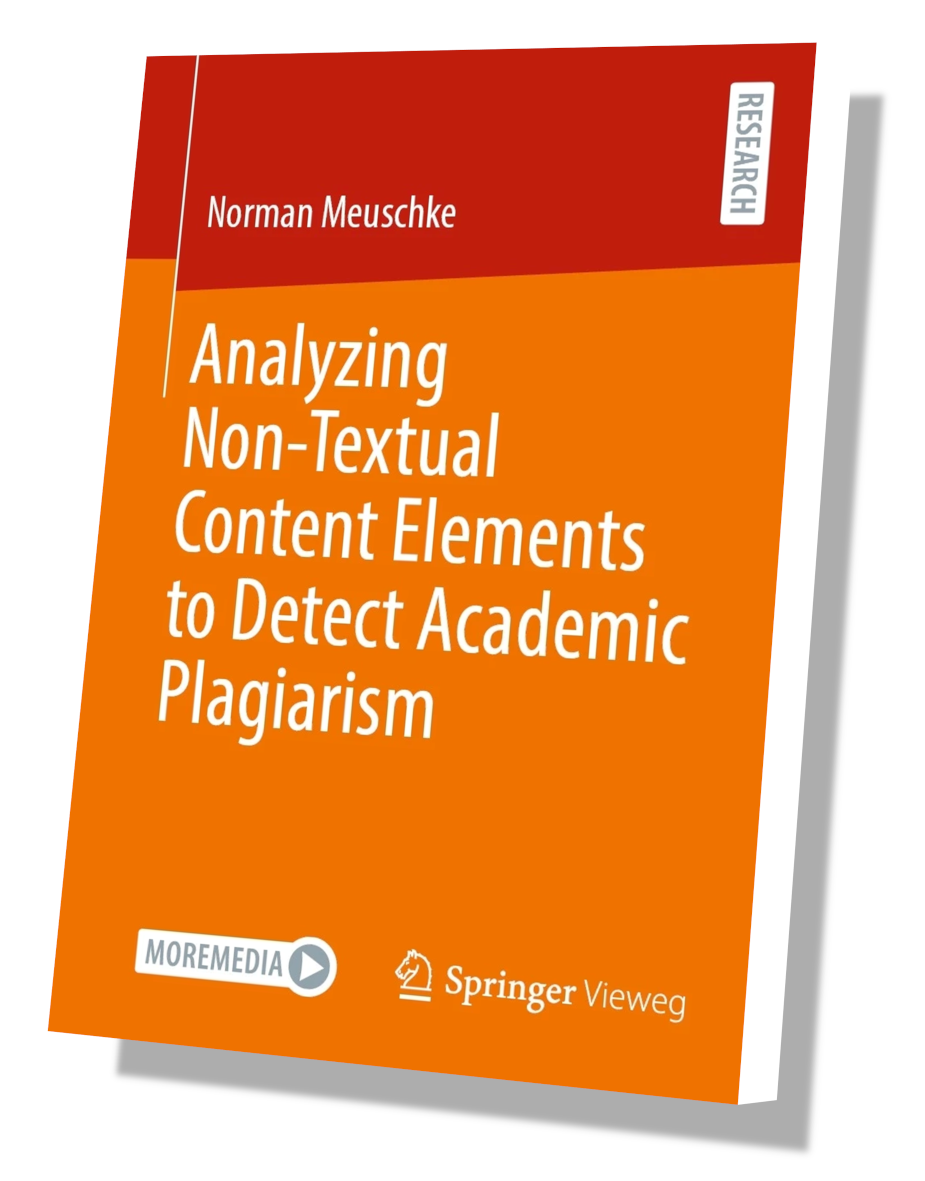 SELECTED PUBLICATIONS
Academic Plagiarism Detection: A Systematic Literature Review
T. Foltynek, N. Meuschke, B. Gipp
ACM Computing Surveys, vol. 52, iss. 6, p. 112:1-112:42, 2019.
(PDF  DOI  BibTeX)
Improving Academic Plagiarism Detection for STEM Documents by Analyzing Mathematical Content and Citations
N. Meuschke, V. Stange, M. Schubotz, M. Kramer, B. Gipp
ACM/IEEE-CS Joint Conf. on Digital Libraries (JCDL), 2019.
(PDF  DOI  BibTeX  Slides)
HyPlag: A Hybrid Approach to Academic Plagiarism Detection
N. Meuschke, V. Stange, M. Schubotz, B. Gipp
Proc. Int. ACM SIGIR Conf. on Research and Development in Information Retrieval (SIGIR), 2018
(PDF  DOI  BibTeX)
An Adaptive Image-based Plagiarism Detection Approach
N. Meuschke, C. Gondeck, D. Seebacher, C. Breitinger, D. Keim, B. Gipp
Proc. ACM / IEEE-CS Joint Conf. on Digital Libraries (JCDL), 2018
(PDF  DOI  BibTeX  Slides)
Analyzing Mathematical Content to Detect Academic Plagiarism
N. Meuschke, M. Schubotz, F. Hamborg, T. Skopal, B. Gipp
Proc. ACM Int. Conf. on Information and Knowledge Management (CIKM), 2017.
(PDF  DOI  BibTeX)